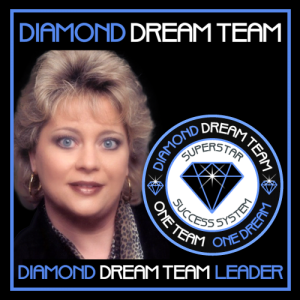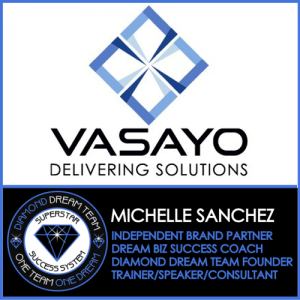 Michelle Sanchez
Independent Brand Partner/Diamond Dream Team Founder
About Michelle
VASAYO Provides Powerful Products & Biz Opp to Change Your Body & Change Your Life!
★ ★ ★ ★ ★ ★ ★ ★ ★ ★ ★ ★ ★ ★ ★ ★
VASAYO Dream Biz Dream Team Pre-Launch Biz Opp! Join Our Dream Team Now at the Top!
VASAYO Provides Unique Exclusive Nutritional Supplements Formulated with an All Natural Proprietary Liposomal Technology to Deliver the Nutrients Directly to the Cell! VASAYO Will Change Your Body & Change Your Life!
★ ★ ★ ★ ★ ★ ★ ★ ★ ★ ★ ★ ★ ★ ★ ★
VASAYO Diamond Dream Team Founded by Michelle Sanchez ~ Dream Biz Success Coach/Dream Biz Success Network ★ Entrepreneur ★ Bestselling Author ★ Speaker ★ Trainer ★ Certified Dream Coach® ★ Certified Direct Sales & Network Marketing Coach ★ Social Media Branding & Marketing Expert ★ Natural Health & Weight Loss Coach & Consultant
Dream Biz Success Network Encompasses Coaching, Mentoring, Products, Programs and Resources to Inspire & Empower Women to Discover Their Passion & Turn Their Passion Into Profit to Create the Lifestyle of Their Dreams! Dream Biz Success Network can help you "Turn Your Home Biz Into Your Dream Biz!"
My experience includes working in a large family business from a young age to running a multi-million dollar company and owning my own business as a Professional Organizer.
After an accident, resulting in a long-term illness, my journey to health led me to discover natural health alternatives, which in turn led me to discover income alternatives as a Natural Health Coach & Consultant, Direct Sales & Network Marketing Professional, Home Business Success Coach/Consultant/Trainer/Strategist, Certified Dream Coach®, Online/Offline Branding & Marketing Expert, Social Media Branding & Marketing Expert & Strategist, Copywriter, Editor, Motivational Speaker/Writer and Bestselling Co-Author of "Wake Up Women: Be Happy, Healthy & Wealthy", all in alignment with my purpose and passion to "Empower and Inspire Others to Achieve Their Dreams by Making a Living & Making a Difference".
That passion has led me to achieve the highest levels of leadership and success in my business ventures by building, coaching, mentoring and empowering thousands of people to enjoy better health and a better lifestyle and generating millions of dollars in life-changing product sales both online and offline, as well as creating and revamping marketing, coaching and training tools and systems for many network marketing
companies and leaders to assist them in achieving the highest levels of success.
Throughout the journey I discovered the true meaning of success which is my mission statement: "You have achieved 'True Success' when you have discovered the path where you can share your unique gifts, talents and experience to make a difference in the world and you can honestly say that you love who you are, love what you do, and love who you are doing it with!" I am so grateful that I discovered 'true success' in my business and I look forward to helping you do the same!
Discover Your Passion & Follow Your Dreams,
Michelle Sanchez – Dream Biz Success Coach
Dream Biz Success Coach/Consultant/Trainer/Speaker/Entrepreneur
Dream Biz Success Network ~ Coaching/Consulting/Training Network
Dream University Certified Dream Coach® ~ Passion Into Profit
Certified Direct Sales & Network Marketing Coach/Consultant/Trainer
Pinning Power Profits Pinterest Branding & Marketing Expert
Dream Biz Social Media Superstar Branding & Marketing Expert
Be Happy Healthy Wealthy Now! Coach & Bestselling Book Author
Natural Health & Weight Loss Coach & Consultant ~ JustSayNo2Diets
★ Dream Biz Success Network ★
★ Turn Your Home Biz Into Your Dream Biz! ★
★ ★ ★ ★ ★ ★ ★ ★ ★ ★ ★ ★ ★ ★ ★ ★
"You have achieved 'True Success' when you have discovered the path where you can
share your unique gifts, talents and experience to make a living and make a difference in
the world and you can honestly say that you love who you are, love what you do, and love
who you are doing it with!" ~ Michelle Sanchez, Entrepreneur/Coach/Consultant/Bestselling Author/Speaker/Trainer
★ ★ ★ ★ ★ ★ ★ ★ ★ ★ ★ ★ ★ ★ ★ ★